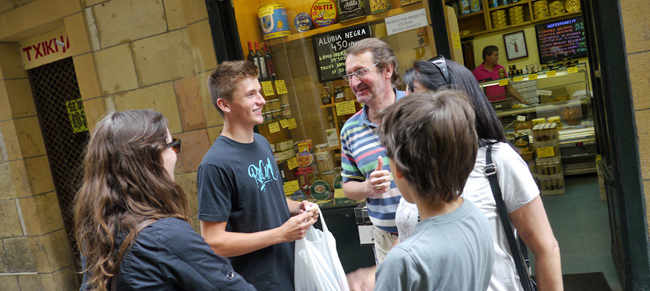 If you are a teen considering host family immersion abroad, you are about to embark on a life-changing experience. By immersing yourself into the core of a culture with a host family, you will be extending your horizons and strengthening your intercultural competence. Based on our experience running quality high school study abroad programs since 1998, we have put together the following three tips for teens living abroad with a host family.
1) Be Curious: Ask lots of questions. This shows a high level of interest in getting to know your host family and their customs. Plus, when learning a language we are often initially more confident in listening as compared to speaking. So being an active and curious listener is a good first step. These questions can often lead to some conversations with your host family:
What hobbies do you have?
What are your favorites books/TV shows/movies, etc?
Can you explain how you made that dish?
What is your school like?
2) Craft a Plan: Think of some specific plans that you want or need to accomplish. For example: printing pictures for your travel journal, finding souvenirs for your family back home, sampling a specific type of ice cream/dessert, finding a certain type of book/music, buying more sunscreen from the pharmacy, visiting a specific place (store or site) that you researched beforehand. Often host families will ask what you might need or be interested in doing. We've found that the host families often enjoy helping you to accomplish these tasks. Plus these tasks are something you can do together and serve as a good conversation starter.
3) Get Creative: Think of some creative or interactive projects that you can do with your host family. This may include: making friendship bracelets, playing cards, cooking, having fun with your phone apps (Dubsmash is a good one), taking goofy or creative photos together, creating a travel journal and showing it to your host family as it evolves, if you are into music – downloading your favorite songs onto their computer and ask them to do the same, if you are into art – creating a card to show your gratitude, if you are into sports – asking your host siblings to shoot some hoops, play some beach volleyball, go for a run, or a bike ride. Plus staying active strengthens our immune systems and spirits!
More high school study abroad tips: Writing a Letter to your Host Family & Embracing Cultural Differences
Edu-Culture Immersion offers:
Group and Individual Programs:  2 to 4 weeks in the French Alps, Andalusia, Salamanca, or Nice.
Language Immersion: Take your Spanish or French to the next level through university accredited classes, full immersion with host families and hands-on learning.
Quality Host Families: Immerse yourself in the comfortable homes of our volunteer host families in Seville, San Sebastian and the French Riviera.
Established & Quality Programs:  The ECI experience is one-of-a-kind with a professional team of local leaders, US chaperones, internationally recognized language schools, top-rated hotels & immaculate dorms.
Click here for more information on our summer high school study abroad programs.