Individual Immersion Program in France—Summer Study Abroad for High School  Students
Individual Immersion Program in France

when?
Anytime from June 19 – August 7 (please contact us for dates outside this time period)
You choose the dates and length of stay

Arrivals should ideally be on a Saturday or Sunday
Fees?
Am I eligible?
You must be between the ages of 15 and 19
You must have completed a minimum of two years (or equivalent) of high school French by June 2021
Exceptions possible based on individual circumstances
Scholarships available
Unique Individual Immersion France
Our ability to offer a total and authentic immersion experience is what sets ECI apart from other Summer Study Abroad organizations.
No other program offers you this amazing opportunity. Your spoken French and knowledge about French culture is guaranteed to improve.
You will live with a volunteer French family, handpicked for you by one of our experienced Host Family Coordinators. Host families usually have teenagers who are a similar age to you.
Your Host Family Coordinator will be on-hand throughout your experience, as part of the ECI support team. She will visit you in your host family home and also meet up with you during your stay to make sure all is going well.
Simply one to six weeks of French culture, French family life and French language. This is true language immersion.
---
Your Arrival in France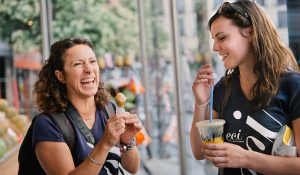 You will be met at the airport by your Host Family Coordinator and taken directly to your host family's home. During your journey to the Gap region of the French Alps your HF Coordinator will give you information about the local area and advice about living with a family.
Getting to know your family
The majority of our families have teenagers of a similar age to you, and one of the goals for the Individual Immersion program is that you develop a strong bond with the children in the family, and even form the beginnings of a life-long friendship. However, as this is an immersion experience with the entire family, we encourage you to also spend as much time as possible building a relationship and speaking French with each family member, whether it be the grandmother or toddler in the family.
Living with a French family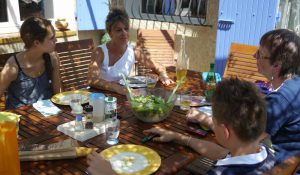 You will have your own room.  You will speak only French.  You will enjoy getting to know  your French family. This is your genuine and unique opportunity to live the life of a French teenager.
Your family will take you on local sightseeing excursions, including the highlights of the Gap region, or to visit friends, or may simply spend time with you at home, going about their daily lives. Regardless, all of this is immensely valuable in helping you to improve your spoken French and knowledge of French culture.
Regular Check-ins
Your HF Coordinator will be on call 24/7 in case you have any issues or concerns. She will also check in with you regularly by phone to make sure you are settling in and comfortable in your family. She will arrange to meet up with you outside of the home in order for you to feel comfortable in discussing any issues or concerns you may have, however small.
This is sometimes done with other students who are in the program town at the same time as you, and many students feel it useful to meet up for this brief period to swap stories about their experience of the program so far.
---
Your program town in the French Alps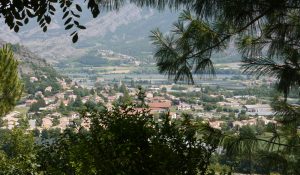 Immersion students love Gap. It's a beautiful and safe Alpine town, and there is a lot to do, particularly if you love the outdoors. There are opportunities to hike, swim in fantastic lakes and go horseback riding. Gap is a popular tourist destination, but mainly for French people on vacation – so, there's plenty of opportunity to speak nothing but French during your whole stay. Gap is an excellent location for an Individual Immersion experience.
Spend your summer in the mountains and improve your French.
---
---
In their own words—ECI Student Testimonials
I am really happy I participated. It has improved my French, I lived with a great family and I have had a lot of new experiences. A program like this really makes you see the differences between your own country and the one you are currently experiencing. We were always doing things with her friends but I never felt like I was intruding. Her family always made me feel like I belonged here.
Tierney 
---
ECI is very prepared and easy to work with. They pick good families and offer a nice, friendly, fun, experience. Gap is very pretty and a great place to live. The surroundings are literally awe-inspiring and the town is picturesque. I very much enjoyed my host family's wish to make me feel as if I was another family member. My host brother gave me a terrific view of the teenage life in Gap.
Sam 
---
I feel that my French has definitely improved and I found that I can now think in French! At first you may be overwhelmed by being in such a different place, but just relax and the language will come naturally. Don't force it; it just happens. I went everywhere my host brother went. I got to meet pretty much the entire extended family in only two weeks.
Duncan 
---
Due to individual immersion I really did experience and begin to understand the culture. I had a great experience visiting France and I thoroughly enjoyed it. My host family was nice and helped me adapt. They took the time to include me in daily activities.
Alexander 
---
Need more information?
Many common questions, from travel and accommodation to host families and cultural differences are answered in our FAQs section.
Want to to talk to someone at ECI?
Ready to sign up?
Go to https://educulture.com/apply/ and select France Immersion 2021
---
---