Group Immersion program in Oxford— summer Study Abroad opportunity for high school students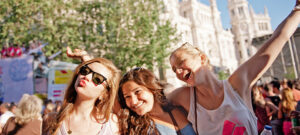 In Detail
When?
Aug 6th - Aug 20th
Fees?
€3200 + airfare (students arrange own flights)
Can I go?
You must be between the ages of 14 and 18. You must have at least 2 years of English. [/expand] [expand title="Program Structure"] During our Oxford summer program you will:
Take English classes with qualified native speakers at Oxford University
Stay in beautiful and centrally located Queens College dorm
Take part in a variety of excursions, including London Stratford and the Harry Potter studios
Enjoy local activities such as punting on the river and playing cricket
Immerse yourself in the language, culture, and daily life of Oxford

Enjoy free time to explore the fantastic city of Oxford

Have the option to add on an individual homestay with a host family in the English countryside after your stay in Oxford
[/expand] [expand title="Classes and Activities"]
Classes
Study English in Oxford
Daily morning classes at Queens College in the centre of the city. Small classes with native English teachers. Lessons will concentrate on spoken as well as written English. Topics will cover art, history, British culture, including pop music, sport, politics and film. Classes are held in the mornings Monday – Friday from 9am to 12noon.
Language Partners
Students will spend time outside of lessons with Language Partners - local English high school or university students, speaking just in English while taking part in a local activity or visiting a local site, or simply having a coffee at an Oxford cafe.
Cultural activities and visits
There will be daily afternoon activities and visits. You will travel by bus to some of the best and most famous English sights, including:
Stratford upon Avon - see the birthplace of Shakespeare and explore the town
Bath - visit this beautiful city famous for its Roman Bath
Stonehenge - enjoy this unique world heritage site of ancient standing stones
Warwick Castle - have a fun day at this impressive medieval castle
Harry Potter Studios - your chance to see the movie sets for the Harry Potter films
London - visit all the great sights of London, including The British Museum and the Tower of London
Some of our student's favourite activities include
Learning to play cricket
Punting on a boat on the river
Ice skating
Dancing classes
Art classes
The Program Town
Oxford
Oxford is an amazing and world famous city. It is a great place to study as a student, and is just one hour by train from London, as well as being close to Stratford upon Avon and Bath. Oxford is a safe and fun city, with lots of interesting shops and cafes, and has a beautiful town centre with parks and museums. Oxford is of course most known for its university, and by taking part in an ECI Oxford program you will have the great opportunity to live the life of an Oxford student. You will stay at one of the university colleges and have English classes at Queens college. [/expand] [expand title="Host family Immersion"]
Add extra time to your trip - stay with a host family!
With this program there is the extra option to add on some time living with a host family in the countryside, in Herefordshire. You choose the length of your stay - up to 2 weeks. During this time you would live with a family and take part in their daily life, speaking English the entire time. Your family would most likely have teenage children and you would be immersed in English family life.
Optional: Host family immersion: €90 per day
Contact ECI Oxford
---
Share this page