A Study Abroad immersion experience with volunteer families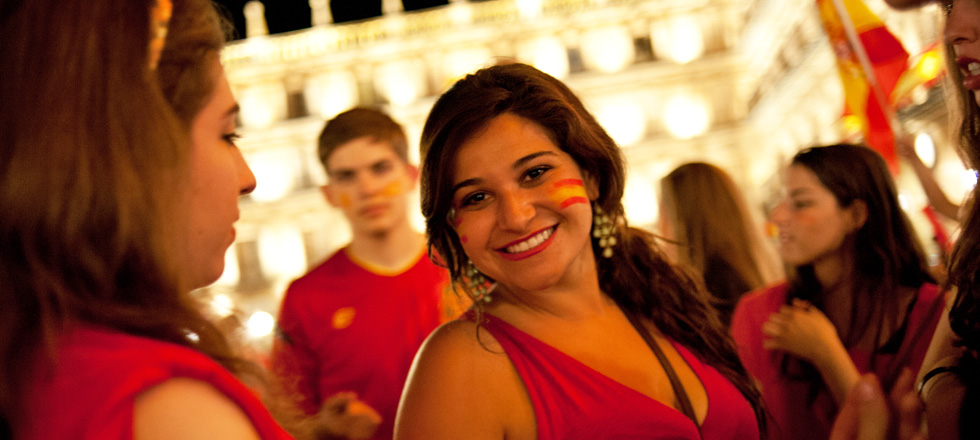 If you are looking for a high school summer Study Abroad program you have a wide range of options. There are numerous high-quality, reputable organizations offering great opportunities, but all with similar program locations and similar program structures. How do you choose between them?
Common components of study program structures
Classes at specialist language schools in France or Spain
Opportunity to earn University Credit
Excursions and travel portions to the most popular must-see locations, including Madrid and Paris
Fun-filled and active itinerary with the chance to try local hands-on cultural activities
Capable, experienced and well-trained chaperone team including US teachers and expert Local Leaders
Reassuring and knowledgeable US-based team who will guide you through the application process pre-departure
A 'Homestay' experience, living with carefully chosen paid families in the program town whilst taking classes
Together these components make up what is commonly termed and regarded as an Immersion experience.

But here is where ECI is different!
In addition to all of the above we provide one week of True Immersion. Put simply, this means living with a volunteer family, individually, for one week, speaking only French or Spanish. There are no group activities. You will be totally immersed in the life and culture of your particular Spanish or French family. This component is unique to ECI programs.
Difference: The Immersion Week lies at the heart of our programs
Your two weeks of class at one of our partner language schools is vital to your preparation for your Immersion Week. The structured course of language study reinforces your existing language abilities. It is designed to bring your oral level up to a point that allows you to make the most of your week, giving you the opportunity to put your oral skills to the test.
Taking part in excursions and cultural activities, and having fun in your program town are all great preparation—building your confidence and helping you settle into Spanish or French culture. This ensures you get the best out of your Immersion Week experience!
Difference: Families host because they are interested in you
Our Immersion Week families are volunteers. They are not paid. They do not receive a food stipend. They become involved in the program because they want to host an American student—they are interested in you and your culture.
They want to form a bond and a friendship with you. To create a lifelong connection. They are proud of their home, their town and their country and they want to introduce it all to you. Past students have been taken on fantastic local excursions or spent a few days at a family's vacation house. But what is truly important is the relationship that grows between you and your family, and this can happen just as successfully simply following the quiet, daily routine of your family.
Difference: Your unique chance to speak only in the target language
In your program town, you will spend a lot of time with your group. You will speak French or Spanish during class and excursions, but it is unrealistic to expect you to speak anything other than English with your roommate, or during mealtimes.
During Immersion Week however it is just you and your host family. Every member of the group is in a separate family and you will not meet up during this time. You will be immersed in a completely non English-speaking situation for a whole week. This is True Immersion — only with ECI.
Difference: Every member of the family will help to enrich your Immersion experience
The majority of our families have children of a similar age to you. This is an amazing and rare opportunity to experience French or Spanish teen culture.
This is not simply about connecting with the teen in your family. Many students report back to us how much they liked spending time with the mother of the family who patiently helped them with their language learning, or how they enjoyed playing with younger host siblings—often the most talkative and inquisitive family members. Or how they were introduced to extended family and got to share in family celebrations.
Where does the Immersion Week take place?
As part of our high school study abroad summer programs, we are really happy to be able to offer you the chance to spend a week of Immersion in some amazing locations in France and Spain. This means you get to see another fantastic part of France or Spain during your trip. Our wonderful Immersion locations are a bonus – but our overriding goal is to find wonderful, caring and welcoming families for you.
Spain
San Sebastián – on the northern coast of Spain in the Basque country. Rich in history and culture, it's a real treasure. Enjoy lots of beach time in this popular resort town.
Seville – embodies the heart of Andalusian culture, is the home of flamenco and its artistic heritage is without rival in southern Spain.
Almeria – a beautiful Mediterranean town on the Costa del Sol, renowned for its beaches. Have fun in this friendly, safe beachside town.
France
Hyères – the southernmost Mediterranean town in France, known as the city of palms. You will quickly feel at home in this gorgeous and historic town.
Gap – a breathtaking town in northern Provence, surrounded by the Alps, famed for its pleasant climate and sporting culture, including being on the Tour de France route.
Your life-changing experience begins before you even leave the US!
As part of the application process we ask you to send us as much information as possible about yourself—your interests, expectations, how you like to spend your free time. Based on the detail you supply, our dedicated Host Family Coordinators make a match that we hope will lead to a life changing experience for you and your host family.
Shortly before departure we put you in touch. Many emails, photos and Facebook messages are traded ahead of your trip. By the time you meet your family you will already be friends.
Life-changing? Really?
Most certainly. This term is not used lightly, and is one used not just by ECI, but also many times by our students and parents who report back to us how valuable and truly life-changing the Immersion Week was for them.
They feel they made friends for life
Gained a unique insight into another culture
Returned home with confidence and maturity
Ability to speak French or Spanish greatly improved
Increased appetite for travel and desire to learn about other cultures
In conclusion?
You have a lot of great Study Abroad options to choose from, but if you want a program that provides a genuine Immersion experience and one that will truly change your life—choose ECI!