The top 3 expectations we have learned from our participants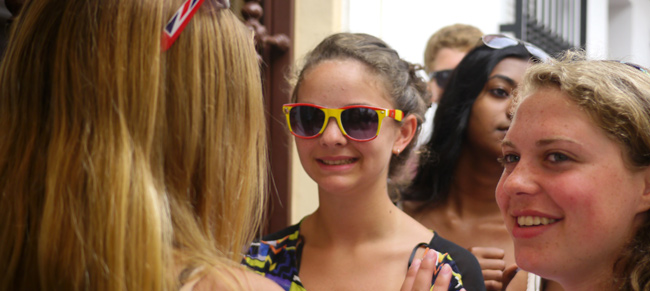 At the end of every season we gather feedback from our parents. This year we asked for their main expectations of the program and, most importantly, did ECI deliver?
The survey showed parents expected their child to:
Be immersed in a different culture
Improve their language level
Develop independence
1. Immersion in a different culture — unique to ECI
Parents choose our trips because they expect ECI to provide a truly genuine immersion experience for their child. We are the only high school Study Abroad organization that works with quality, volunteer families.
During the Immersion portion our students experience a week of authentic Spanish or French life and speak only in the target language. Our unique True Immersion remains the number one reason why parents choose ECI.
2. Improvement of language level – ECI's approach
We have a successful group program formula for guaranteeing an improvement in language level—two weeks of daily, intensive classes with native speaking teachers, followed by a week of total host family immersion.
The Immersion Week reinforces the classroom-based learning, and turns the passive acquisition of language into the truly active. Students get the chance to put the theory into real-life practice.
3. Developing independence — but in a safe environment
ECI programs offer a fantastic opportunity for students to experience a sense of independence, but in a safe environment, and within set boundaries.
During excursions students always have free time to explore the local sights, and free time is built into every day of the program. Students take responsibility for a range of personal tasks, including laundry, getting to class and to the meeting points.
Did we miss anything? We are committed to delivering only the best experiences and we appreciate every comment. If you have your own expectations of what you look for in a study abroad company, please leave a comment and we'll be happy to reply. You can always contact us directly at the ECI office or Email your questions