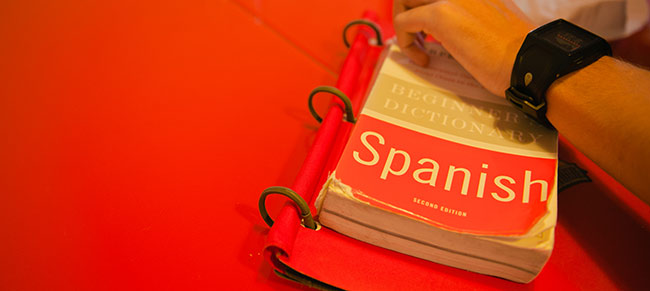 When?
The simple choice is between studying abroad in college or while still in high school.
Most universities offer a Study Abroad program, arranged through a Spanish university, usually lasting between three months and a year. A great way to spend part of your college years, but more and more students are choosing to take their opportunity to study abroad in Spain earlier and are instead opting to take part in summer programs while still in high school, most often during their junior or senior year.
Summer high school Study Abroad programs in Spain are put together by experienced organizations specializing in offering group and individual immersion opportunities to high school students during the months of July and August.

Where?
Think Study Abroad Spain, think beach? This is not your only option.
City study
Spain also offers many possibilities to study in some of the most culturally rich and beautiful cities in Europe, including Madrid, Granada and Salamanca. One of the most historic and cultured cities, and one very highly regarded from a language learning perspective is Salamanca. Located in the region of Castille, Salamanca and its surrounding area is widely perceived to be where the purest form of Spanish is spoken. It is also a magnificent and impressive university city with a fun vibrancy common to student towns, making it an ideal place in which to spend a summer studying Spanish.
Summer study at the beach
If however you are excited at the prospect of combining beach and language learning then there are many towns on the Costa del Sol where it is possible to spend the summer studying in Spain. A great location in which to improve your Spanish is Nerja on the southern Andalusian coast. A quintessential Spanish beach resort, but with charm and a distinct Andalusian cultural identity, a summer of Study Abroad here manages to mix together both beach vacation and serious language learning.
How?
You have two choices: group or individual
Group programs
Group high school programs are the most popular type of summer Study Abroad program. High school summer abroad organizations usually offer a complete, pre-arranged package—a combination of sightseeing, language classes and total immersion homestay, with every detail taken care of. Programs are most often led by a team comprising US teacher chaperones and at least one knowledgeable and experienced, Spanish native speaking local leader.
Group programs allow you to experience the culture in a safe, controlled and organized way, with students of a similar age to you, all sharing the same cultural language experience. Although some students travel together as friends, the majority sign up as individual participants, but for all, being part of an intense shared adventure quickly creates bonds and firm friendships.
Most group programs are made up of distinct components, all designed to help you reach your goal of improving your Spanish.
A group program typically comprises:
A number of weeks studying at a language school, taking classes for credit and taking part in local cultural activities.
A portion of time spent with a host family. Host family immersion experiences are particularly enriching and beneficial and allow you to truly engage with the culture in an authentic setting.
Time at the end of the trip for touring Spain and sightseeing. This involves guided city visits, free time for shopping and overnight hotel stays – a very fun way to experience all the must-see sights of Spain.
Group program dates are pre-set, and typically take place in July and August, lasting three to four weeks.
Individual programs
Individual programs are your most flexible option. You choose the dates and the length of stay. As the program title suggests, this is a uniquely individual experience, and one which is guaranteed to improve your spoken Spanish. Living with a family, preferably a volunteer family, is the best way to get to know Spanish culture first hand. Families—and volunteer families in particular—host because they are eager to share their culture with a student from the US. They typically have teenagers of a similar age to you and really enjoy introducing you to their version of Spain.
Individual high school abroad programs are best suited to students who are independent and confident. It can be daunting to completely immerse oneself in a new family, in a new culture, and in a new country, but for those who do choose this option, the rewards are great: you form strong and lasting bonds with your family, gain a unique insight into Spanish culture, and most importantly, three to six weeks of intensive Spanish speaking means a massive boost to your spoken Spanish abilities.