Would you like to reduce the cost of your study Abroad trip this summer?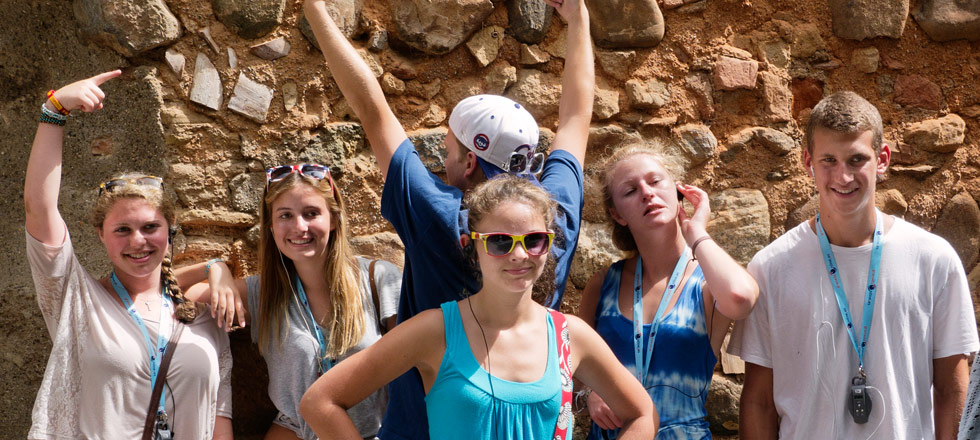 We are offering two  scholarships of $500 each to be applied towards the 2021 summer immersion programs.
We will select finalists based on their entry.
A condition of receiving a scholarship is that you would produce a series of vlogs on your experience of the following:
Living with a host family.

Why your immersion location is a great place for an Immersion program for a high school student.

How your spoken Spanish or French has improved.

What you enjoyed most about your experience.

Why you'd recommend it to other students and advice about taking part.
We'd also ask you to send regular posts to your social media followers during the trip and tag ECI.
We will announce the winners no later than March 31st, 2021.
Scholarship winner testimonials
Taylor —Spain group immersion student
I first became aware of ECI 3 years ago when a representative came to visit my school. As soon as I got home that day I told my mom I was going on this trip when I turned 15. Without the financial help of the scholarship I would never have been able to venture off to Spain and have such an amazing time.

I traveled on the Salamanca trip. It was the perfect mix of historical education and fun cultural experiences. Salamanca was one of the most beautiful places I have ever seen! The city is absolutely stunning, gorgeous architecture and beautiful cathedrals everywhere you looked, as well as people from all walks of life. It was a very busy little town with kids from all around the world. I had the opportunity to meet people from Germany, France, Switzerland, Italy, China and even Pennsylvania.

Being able to experience the Spanish culture while the soccer World Cup was happening was one of the greatest parts of this trip. We were so lucky to be in Spain during the majority of the games, and have Spain taking the lead! The first game that we watched together as a group was great. It was while we were in Madrid and just getting used to being in a completely different country. We got to watch the game in an outside restaurant area where everyone was cheering and singing.

Another highlight of the trip was getting to meet and stay with my host family. They were the kindest people I have ever met. I was given the chance to be a part of their family and do everyday things with them, from going to the pool to watching Spain win the World Cup! They changed my life forever and I hope that one day I will be able to go back and visit them or they can come to America.

I want to thank ECI so very much for giving me the chance to have this once in a lifetime experience. I will never forget my trip and all the wonderful memories I made.
Laurel —France group immersion program
My trip to France was an absolutely amazing experience, and I will always be grateful to ECI for giving me the opportunity to travel. During my trip to France I was able to gain some insight into how people live in other parts of the world, and especially how unique the way of life in France is. ECI's trip leaders really added to the over experience of the trip. Not only were they friendly, they were also extremely organized and resourceful, which made the experience very smooth and enjoyable.

Staying with a host family was the most memorable part of the trip. Spending time speaking and being around my host family improved my French in ways that I would not have thought possible. The activities we did were so much fun. The day excursions we went on were another aspect that made my trip so great. Visiting French cities gave me a better idea for the landscape and geography of France, as well as how much the geography affects the culture of a specific area.

Although leaving our host families  was extremely sad, arriving in Paris made up for it. We started our planned activities as soon as we left our luggage at the hotel, and the time went so fast! Paris with ECI were three of the most exciting and exhilarating days of my life.

I learned so much on my trip, not only about the French language, but about the French culture and people, and I cannot think of a way better to spend a summer. I would definitely recommend this trip to anybody who wants to expand their knowledge of France and broaden their view of the world.

Thank you ECI for making my summer so special!
How to apply for a Scholarship
Application process
Please complete and submit the following online form:
To win one of the two available $500 scholarships
Please send  us a video about the theme Study Abroad in France or Spain. Include the following:
What you are expecting from your immersion experience
How you think taking part in an immersion experience will benefit your future
Your video should be at least two minutes and no longer than four minutes in length. It should be as creative as possible!
Please get in touch for info on where to send your entry:
contact us.