New for this season – French group program in Nice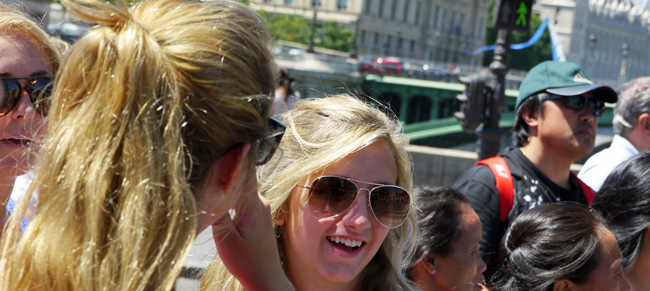 We are happy to announce, new for 2013, that our French group program will be based in the fabulous Côte d'Azur city of Nice.
Nice is quite simply one of the highlights of the Riviera. Much loved by all who have ever visited, this is an amazing town in which to spend two weeks taking part in a French language Immersion program.
Nice boasts world class museums, an elegant beachfront promenade, and a beautiful old town to explore in your free time. It's a city buzzing with atmosphere, a great selection of cafés and night time music entertainment. Art lovers are also in for a treat – Nice is home to the museums of both Chagall and Matisse.
As well as local sightseeing, you will also explore the impressive coastline of the Côte d'Azur, including the world famous towns of Monaco, Cannes and St. Tropez. Enjoy soaking up the cosmopolitan, but thoroughly French Mediterranean culture.

Prestigious french language school
We are very fortunate to be working with a highly regarded and internationally recognized language school in the center of the city. Established in 1990, it is recognized by the University of Nice and the French Government Department of Education, and is also an official examination center for the Sorbonne university in Paris.
The school and residence – a campus experience
This means no traveling to classes. The campus is just a 15-minute walk to the beach and a 20-minute walk to the city center.
The campus, Parc Imperial, is the elegant former home of a Russian Czar. All your classes will take place at Parc Imperial, both inside and in the gardens. There are also communal areas for relaxing both inside and out.
Breakfast, lunch and dinner are served in the cafeteria at Parc Imperial, and packed lunches are provided on excursion days. You will stay in a triple or quad room. Each room has its own bathroom. Some rooms even have a view of the Mediterranean!
Cultural and fun activities
Experience French culture first hand through a range of fun daily and weekend activities, including half day excursions to Juan les Pins, Antibes, St. Paul de Vence and Villefranche. Full day excursions include visits to Monaco, Cannes and St. Tropez.
Also enjoy an excursion to a candy factory, the Matisse art museum, and sightseeing in the historic center of Nice. Learn new skills during a French cooking class, a dance class and a theater workshop.
Evening activities at the residence include movies, a salsa night, games and a disco. Available sports activities include soccer, rollerblading, basketball, mini-golf and beach volleyball. There will also be lots of free time for you to get together with friends and relax at the beach.
Other program components
After your two weeks in Nice:
Spend one week in Hyères taking part in an individual host family immersion week.
Enjoy 3 days sightseeing in Paris.
Please take a look at our Nice, Beaches & Paris program in detail, together with our videos, which will give you an understanding of all aspects of the this trip. See classes in action, hear from last year's students and watch a brief summary of the three-day trip to Paris.