Our informative Study Abroad videos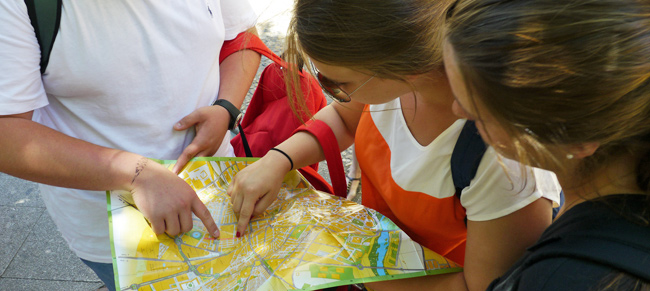 We are very excited about this coming season, but we are especially excited at the prospect of being able to offer you an insight into our programs before you sign up, giving you a clear picture of what happens during a summer Study Abroad program.
A picture paints a thousand words –
but a video goes one better…
Over the last fourteen years of organising summer Study Abroad programs we have used a lot of words and web pages attempting to communicate the flavour and essence of our trips. It is possible to describe the process and components of a program through descriptive text, and the inclusion of illustrative photos goes a long way in helping to portray our programs in France and Spain, but for the first time we are able to show you a variety of activities and program components through videos. Our mini program movies includes footage of a host family during Immersion Week, Spanish and French classes in action, the passion and excitement of a soccer match, and the fun of a salsa class.

JM Canero – our talented filmmaker
This year we worked with Juan Manuel Canero, a Spanish filmmaker, to spend the summer with some of our groups in France and Spain. JM and his camera followed the students during parts of their program experience, and captured hundreds of hours of footage on camera, shot in Madrid and Paris, in San Sebastian on Immersion Week and in Granada and Seville during the touring portion. JM sat in on classes and a bullfighting demonstration. He filmed a fencing session, and a day at a ranch. He was also there on fun evenings out in France and Salamanca. He spent time with the students and their host families, and witnessed a whole host of unforgettable moments including a fond farewell to the French teachers, as well as a passionate and excited crowd of students and locals when Spain won the Euro soccer final.
In their own words
Juan Manuel also spent a good deal of time talking to students on camera about their program experience. In our videos you will see students talking candidly about their time in France and Spain, about what they enjoyed, how their French or Spanish improved, what they were looking forward to during the rest of their trip, Spanish food, their experience of the classes, living in a dorm, getting along with the other students and advice they would give to a student thinking of taking part in summer Study Abroad.
Our videos as a resource
While our videos will give you a very clear picture of what ECI has to offer, one which we hope will encourage you to sign up for one of our programs, we also hope they will prove useful to you if you are simply considering Study Abroad once you get to college or if you are planning on signing up for an academic year Study Abroad program. Whichever Study Abroad route you choose, we are very happy to provide you with a brief overview of Study Abroad and a vibrant snapshot of 21st century France and Spain through footage beyond the usual shots of the Eiffel Tower and the museums of Madrid.
[wpui_button url="http://educulture.com/about/video-gallery/" label="Visit the ECI Video Gallery"]