Stephanie, a member of the ECI team, shares her experience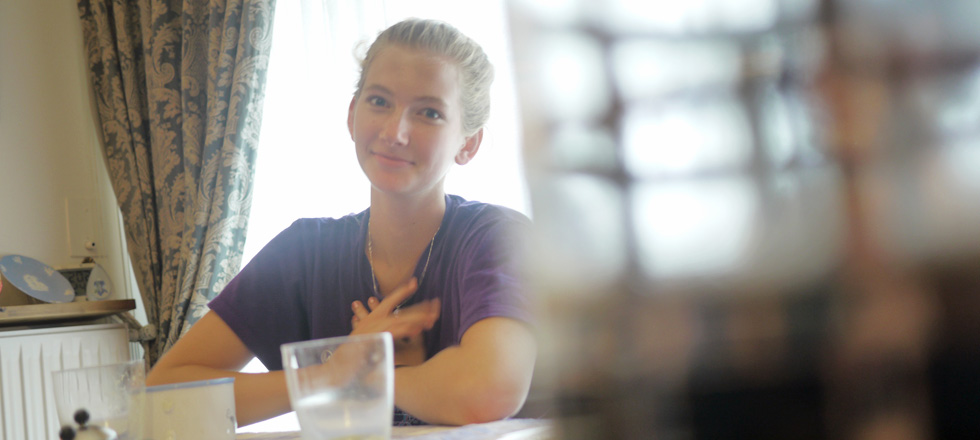 The thought of living with a host family can be a daunting prospect. When I was 18 I signed up for a year-long study abroad program in France, where I would live with 3 different host families during the course of my stay.
How do I approach living with my hosts?
You're a guest, but how much of a guest are you? How much should you help out? Students often ask themselves these questions in anticipation of the Host Family Immersion week. As someone who has lived it, the best advice I can give you is be yourself.

Your host family has opened their home because they want to meet you, get to know you, and learn about American life, all the while sharing their life with you. If you still have questions about anything, ask your host family – this is a great way to practice your language while learning about your hosts.
Get to know them a little before you arrive
By the time you arrive at your host family's door, you will already have been in contact with them and will know a little about them. Emailing them and using Facebook to connect are great ways to get to know each other before you arrive. Your first meeting with your family is a great time to show them all of the French or Spanish you learned while taking language classes! You might not notice the improvement right away, but I bet your host family will!
We match you with your host family carefully
Students most commonly fear the Host Family Immersion experience because they're worried they won't get along with the family or that their language skills aren't strong enough. First off – don't worry! These are things that everyone thinks about and the fears are usually put aside in 1-2 days. Your host family are not total strangers; they are carefully matched to you using the information you put in your application and what you say about yourself if the Host Family letter. This is why you write the host family letter and include interests on your application, because it helps us find the best host family for you! Be forthcoming about yourself and who you are, what you like to do, how you spend your free time, etc. We select host families for our students who share common interests.
What can you talk about?
While you're there, you might find yourself thinking that you have nothing to talk about, or that you can't talk about anything with your family because it's too hard. You can relax, because your host family knows that you are learning the language. They aren't going to talk to you in English 24/7, but they will help you work on your French/Spanish.
If you need things to talk about:
Think "you"! Tell the family as much as you can about yourself; it's fun for them to hear you describe what you like to do, and in turn ask your family about "them."
Find out what they do for fun, what they watch on TV, etc. This can be a great area for conversation, as well as a place to find common threads between your cultures.
If you have a favorite movie that you and your family back home all watch together or a game you play once a week, share it with your host family and then talk about it afterwards.
My best piece of advice
The best advice someone gave me before I went to France was to never say no to the new opportunities that await you abroad. Whenever someone offers to show you something, share an experience with you, or offers to take you somewhere, don't turn down the opportunity because you might be a bit tired or think it sounds boring. You could be missing out on a seriously fun adventure. You might create your funniest memories doing something simple like walking to the park or watching a soccer match on TV.
Take full advantage of every moment you have to make this experience the best it can be!
"My Immersion hosts included me in family meals and activities with friends. I ate Spanish food, lived the normal Spanish schedule, and spoke Spanish. I loved my host family and learned a lot!"
Nora Cooper, Student, Salamanca 2012