ECI carefully selects the best so that each trip is a huge success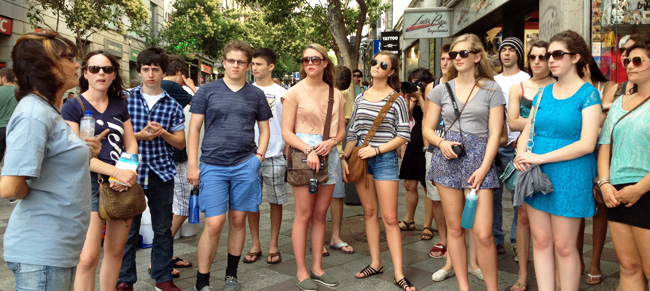 What is a Local Leader?
A local, native-speaking expert, working on the ground in France and Spain. Students fly with their US chaperones to Europe and are met by their Local Leader. Together with the US chaperones, the Local Leader makes up the team of responsible adults who looks after the trip and our students.

The search for great Local Leaders is on!
There is a process involved behind choosing each Local Leader which starts now. As Co-Director of ECI, and based in Europe, it is my responsibility to choose the Local Leaders for our summer programs in France and Spain.
Getting the right chaperone team in place is fundamental to the success of a trip.
What am I looking for? What makes a great Local Leader?
Qualified – experienced and enjoys working with teenagers – I regularly hire high school teachers as Local Leaders or others who have led groups like ours in the past. The most-important qualifications are the patience and empathy needed for dealing with teens, and a love for educating young people.
Great local knowledge – I need someone who can help students quickly get to know their program town. Our students need to have the local sights brought to life and to understand the local culture and history. A great Local Leader understands our local host families, can translate cultural differences for our students and helps to prevent cultural misunderstandings.
Ability to handle all manner of unexpected situations – Paris downpours, air-con breakdowns aboard the bus to Seville, Spain win the World Cup and like everyone else the students want to celebrate—just a few scenarios that have happened. I need a Local Leader who can quickly and calmly assess the situation, think on their feet and find an appropriate solution.
Be impeccably organized – Local Leaders must ensure the itinerary on the printed page is put into action. There is a lot to take charge of, from confirming reservations and dealing with medical issues to handling the financial aspects of the trip. It takes a certain kind of person who can juggle a multitude of tasks in the pressured and intense environment of a Study Abroad program with efficiency and positivity—and still keep smiling!
A figure of friendly authority – I need a Local Leader who can make very clear the boundaries put in place for the safety and comfort of the group. They must be friendly but I don't need them to be the students' best friend. Their role is that of responsible adult—a parent substitute our students can turn to if they need help or advice.
Boundless enthusiasm and energy – ECI trips are action packed and fun filled. Our Local Leaders must have high energy levels. They should set a positive tone for the trip and ensure every day of the trip lives up to students' and parents' expectations for quality, energy, education and fun.
Only speak in the target language to the students – I choose Local Leaders who I am confident will only speak French or Spanish with our students. They must understand a key goal for our students is to return home to the US with more confidence and fluency in their target language. Achieving this is in part down to the commitment of the Local Leader to only speak in that language throughout the trip.
But that is not enough!
Extra, vitally important qualities that are so key to the success of a trip must also be ticked:
Warmth of personality
Ability to remain calm under pressure
Professional integrity that chimes with ECI's philosophy
A flexible attitude and personality
Great interpersonal skills
And very importantly—a genuine excitement, passion and drive to introduce our students to their home country, their national culture and the history of their region
Local Leaders come in all shapes and sizes
Age and background can vary greatly among Local Leaders. A youthful outlook and energy level is more important to me than simply being youthful— I have hired leaders in their fifties as well as their twenties. Many Local Leaders are teachers, but not all. Fantastic Local Leaders have come from many different career backgrounds, including a professional photographer and a flamenco dance teacher. Both were very successful and popular—each bringing their own personal educational style to the program and enhancing the student's Study Abroad experience.
We are committed to continuing to hire only the very best, to ensure our students have the most amazing life-changing experience!