You want to take part in a high school study abroad program but you need to know what it will be like.
You can talk to friends who've already had the experience of spending a summer learning French or Spanish, you can scour the internet for blog posts and info, you can read online descriptions of programs, but the best way to get a taste of what to expect is to see some of the highlights captured on film.
We understand this, and last year we asked Juan Manuel Canero, a talented Spanish filmmaker to spend some of his summer filming our programs.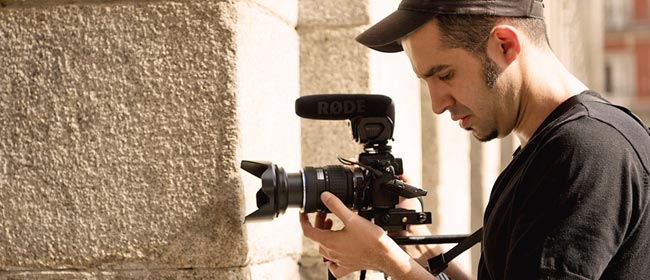 The brief. The results
JM, as he is known to all at ECI, shot hundreds of hours of footage, both in France and Spain from which he produced a series of short video clips for our website. His brief was to capture the essence of an ECI trip, and to bring to life each program component, whether it be sightseeing in Madrid, taking part in classes, or having fun during activities. JM also spent time with a selection of students during their Immersion Week in San Sebastian, and took footage of their interactions with their host families.
Student interviews
JM filmed interviews with the students, who can be seen giving their feedback on a range of aspects of the trips including, living with a host family, what they enjoyed during their time in France and Spain, comments on the classes, the food and the dorms. All of these clips combine to give you a really full and frank picture of what taking part in a high school summer abroad program is really like, whether you choose to travel with ECI or with another organization. You will also get to see some of our language teachers, and hear from a host family—all very informative for you and providing you with a true insight into summer abroad in France and Spain.
Great shots of program cities
Included in our video collection are short films presenting the highlights of the many cities we travel to, including fantastic shots of Paris, the buzz of modern Madrid, the vibrancy of Salamanca and the beauty of Nerja on the southern Andalusian coast. Our clips collection also gives a clear picture of the activities you can expect to enjoy including salsa dancing in Salamanca and and horse riding at a Spanish ranch.
The man behind the lens
We are very lucky to have Juan Manuel as ECI videographer. In between shoots JM found time to answer our questions:
Where are you based JM?
I live and work between Madrid and Amsterdam.
How long have you been a filmmaker?
I've been working as photographer, cameraman and video editor for more than ten years now.
What got you started?
I've been filming and taking pictures since I was a child, using images to express myself is kind of  second nature.
What did you most enjoy about the ECI shoot?
For me it was a very intense experience: the students were wonderful, full of joy and curiosity. It was beautiful to rediscover the places I know through their eyes. I felt like an invisible witness to their joy of learning about Europe and a different language, following their progress day by day.
What did you learn about the ECI students, chaperones and trips?
I learned a lot and had a lot of fun during the ECI trips. It was an incredible exchange of experiences and I felt very comfortable working with them from the very first moment. I was surprised by how comfortable the students were in front of the camera, and how mature their answers were during the interviews. The chaperones helped me a lot in my work. They inspired confidence, they were responsible but also very fun people.
What other shoots have you worked on?
I have worked on very different projects during my career: documentary films, TV news, advertising, events, interviews and corporate videos, to name but a few…
What are your future filming ambitions?
I'm always working on a variety of projects at the same time. At the moment I'm directing a series of documentaries about gastronomy and a short film, among others.
What do you enjoy most about your job?
What I enjoy most is the contact with different people, the chance to get to know new places, new points of view, and to be able to express my experiences using my camera.
Now check out JM's work on our Video Gallery.