New for this season – ECI makes a welcome return to Barcelona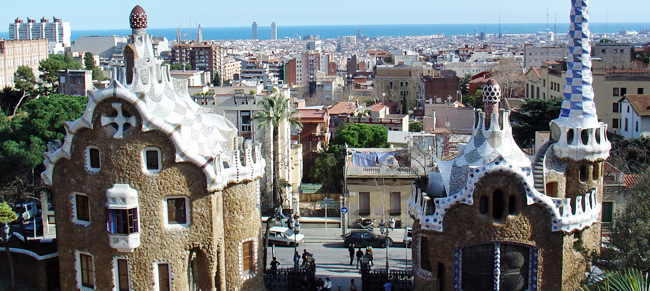 This summer marks a return to offering this amazing city as part of our summer Study Abroad programs. Barcelona was included as an optional weekend trip for our students in the past, but this year we are happy to include Barcelona in one of our Spanish group Immersion programs – Southern Spain & Barcelona. A four-day trip to the city will feature at the end of this month-long program. After your Immersion Week in Seville, this is a fantastic finale to your program.

4 days sightseeing
Enjoy 4 days of sightseeing, taking in all the major must-see sights of Barcelona, including shopping on Las Ramblas, visits to the Olympic port & the city beach, Gaudí's impressive church – the Sagrada Familia, and the famous Barcelona football stadium, Camp Nou. You will also get a great overview of all the city highlights with an open-top double-decker bus tour. Other activities will include a picnic in Gaudí's amazing Parque Güell and attending a fabulous live sound & light show at the Royal Palace.
City center hotel
During your Barcelona trip you will say in a 4* hotel in the heart of the city. You will eat breakfast at the hotel and have dinner in a variety of great quality restaurants, giving you an opportunity to taste the world-renowned food of the area.
Barcelona – a very different Spanish experience
Barcelona, located in Catalonia, considers itself separate from Spain in many respects. Catalonia even has its own language – Catalan, and a separate cultural identity, both of which make it a fascinating area to visit. You will hear Catalan spoken but be reassured that in Barcelona everyone also speaks Spanish.
4 days in Barcelona – perfect!
Our programs are designed to result in you returning to the US with improved Spanish and an increased knowledge of Spanish culture. Every component of our programs plays its part in achieving this goal:
3 days in Madrid – sightseeing in the Spanish capital is a great introduction to Spain
2 weeks in Nerja on the Costa del Sol – studying at one of Spain's best language schools and enjoying cultural and fun activities
1 week of total individual Immersion in Seville – living with a volunteer family and experiencing a once in a lifetime Spanish family Immersion
4 days in Barcelona – seeing the sights, and learning about the Catalan region and its unique culture
Your four-day Barcelona component will provide you with an extra depth of Spanish cultural knowledge, together with four days of amazing fun and sightseeing in one of Europe's best loved cities.
A finale to your Spanish adventure!