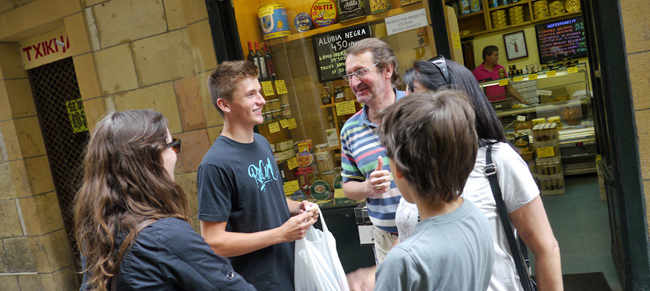 A complete language immersion experience – no English
A complete cultural immersion experience – no organized group activities
A bond that will last beyond your time in France or Spain
An opportunity to experience teenage life in France & Spain
Volunteer families who host for all the right reasons
1. Complete language Immersion
Living with a family in France or Spain means your only method of communication will be speaking in the target language. You will not be placed together with another US student. You will have no choice but to interact, socialize and speak solely in French or Spanish. The opportunity for improving your target language is huge – amass new vocabulary and learn new idioms as you enjoy dinner together. Pick up vocabulary from the TV and radio. Spend time simply listening to family conversations, absorbing pronunciation and learning new phrases.
This is a once in a lifetime language learning opportunity.
The host family took my Spanish to an entirely new level. I felt like a member of the family. I was able to make Spanish friends and get an inside view of the culture. Immersion was a key factor in acquiring fluency…"
Joe Chafkin – Spain 
2. Complete cultural Immersion
You can't go to France without visiting Paris, or take a trip to Spain without a stay in Madrid, but that's only one aspect of experiencing French and Spanish culture. The only way to truly get to grips with how these cultures work is to spend time living with a family. Daily mealtimes, weekend family outings, meeting with friends of your family, mixing with local teens, learning about local food, customs and traditions, all combine to give you a full, current and detailed picture of Spanish and French culture.
I enjoyed my host family's willingness to teach me about their culture. I learned a lot about Spain and more of the language. I also made lifelong friends. They introduced me to all their friends and family…"
Ema Marter – Spain 
3. Forging a bond that could last a lifetime
Many students remain in touch with their host families years after their first encounter during an Immersion experience. Students and families are matched based on shared interests in an effort to foster a genuine relationship and friendship between student and family. The Immersion experience doesn't have to end once you return to the US. It is not uncommon for students to maintain the bond and friendship once the summer is over. Host family children may arrange to visit you in the US, or you will make return trips to your host family, further strengthening the ties made during your summer Immersion.
My daughter loved every minute of her experience in France. … she became more proficient in the language and learned so much about the culture. As a wonderful bonus she became great friends with her French host sister."
Suzanne Lappe, parent – France 
4. Experience Spanish and French teenage life
Living with a host family who have children is a bonus. One of the goals of host family Immersion is for you to interact with the language and culture through getting to know the family members, but living with a family who has a teen, and who shares some of your interests, will give you a unique insight into French or Spanish teen culture. You will socialize with your teen host family siblings and their friends, and all the while you will be acquiring and practicing your French and Spanish way beyond the level of mealtime pleasantries or shopping etiquette. Throughout your stay you will be a source of great interest and novelty – your host family siblings will take every opportunity to hang out and chat with you. Living in a host family with kids guarantees you will get lots of French or Spanish speaking practice.
I very much enjoyed my host family's wish to make me feel as if I was another family member. My host brother gave me a terrific view of the teenage life in France."
Sam Goff – France 
5. Volunteer families host because they really want to
Many organizations offer host family stays as part of the program – but these are usually paid families – paid to accommodate and feed you during your period of taking classes. They are generally very nice people with some level of interest in hosting you, but your interaction with them will be mainly restricted to mealtimes. You will usually share with another US student, diluting the immersion experience and the potential for you to practice your French and Spanish. But volunteer families host because:
They are genuinely interested in forming a connection with a student from the US.
They want to get to know you and to form a bond that will last beyond the length of the program.
They are often educated professionals, eager to share their culture and learn about yours.
They want to expose their own children to the notion of language and cultural exchange.
Volunteer families are arranged through local coordinators, very often a teacher wanting to offer the hosting opportunity to his or her students. A volunteer family is committed to the ethos of hosting- they look forward to your visit, make plans to show you the local sights, introduce you to their friends, and make every effort to help you improve your Spanish and French. They invite you into their home as a member of the family and not as a paying guest.
My host brother introduced me to his friends and made a special effort to include me. Staying with an immersion family was the best possible way in my opinion to immerse myself in Spanish culture…"
Gabriel Grand – Spain 
Watch our video filmed this summer. Students from our program in Salamanca talk about their host family Immersion Week in San Sebastian.

Share this page