Looking for a teen study abroad program in France or Spain that offers an immersion experience?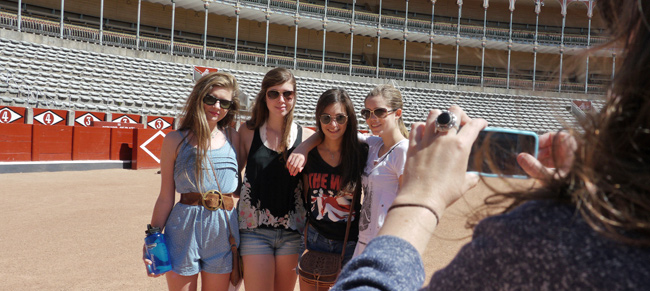 The term 'immersion' doesn't always describe the reality – so make sure to ask the right questions!
Immersion is a word that has been subject to over-use and as such has become somewhat diluted. Parents and students looking for a truly authentic language-learning experience must ask how accurately 'immersion' lives up to its promise:
Are the US chaperones instructed to speak only in the target language?
Will the program have at least one local leader, native to France or Spain?
Is there an opportunity to mix with local young people, even if just for a few activities?
Is there a component that offers the chance to live with a non-paid volunteer family?
Is there a time during the 'Homestay' when there are no organized daily activities, providing the ideal opportunity to speak only French or Spanish with the family?
What exactly should an immersion program deliver?
True Immersion should bypass the tourist route and to get to the heart of Spanish or French language and culture. This can be difficult to consistently achieve for Study Abroad providers – look for organizations that can demonstrate a consistent commitment to delivering these essential elements:
Authentic language learning that simply cannot be experienced in a US classroom
The opportunity to mix with the locals – a true insider view of French or Spanish life
Taking part in activities that are unique to France or Spain
The chance to live with a family and become part of their lives
The program I am looking at offers a language school component – isn't this 'immersion'?
This will definitely provide a great opportunity to improve your French or Spanish. But in the breaks, during activities and in the evenings, you will speak English with your fellow Americans – it is unavoidable, no matter how much a program promises a 'target-language-only experience'.
Many programs do their best to ensure that US chaperones only speak French or Spanish, but it is unrealistic to expect this to happen all the time.
Can a program of sightseeing and activities provide an 'immersion' experience?
All organizations put together fantastically varied sightseeing trips and activities. This absolutely goes part of the way towards a cultural immersion, but often stops short of being truly authentic. Seeing the sights allows you to learn something of the history of Spain or France, but we all know it could take months of actually living in the country for you to make the jump from tourist to culturally-immersed local.
Isn't living with a family always a sure-fire way to achieve cultural immersion?
The problem is that in this context, 'immersion' implies a total inclusion into that family's life, and it is here that you can be most disappointed. If a program contains regular daily classes, the 'Homestay' will almost certainly involve you living with paid families.
There is nothing wrong with this, but you need to be very clear about the reality. Although 'paid families' doesn't necessarily mean bad families; these families are often welcoming and caring, this is first and foremost a commercial arrangement, and you will be one in a long line of US students they have hosted.
They will be friendly, but don't expect to become a member of the family and totally 'immersed' in their Spanish or French life. This is essentially a bed and breakfast experience. Anything else is a bonus.
How do we at ECI succeed in providing a true immersion experience?
All ECI programs have Local Leaders working alongside US chaperones who only speak in the target language. Check if this is also the case for other programs you are interested in.
Of course you can't go to Paris without visiting the Louvre and other 'must sees', but all ECI programs include sightseeing off the beaten track. All ECI programs also offer the possibility to take part in a few activities with local young people, or Language Partners – an excellent way to connect with French or Spanish youth culture. Find out if other programs you like offer the opportunity to mix with the local youth.
ECI programs, uniquely among Study Abroad programs, include a one-week stay with a non-paid, volunteer family providing a true immersion experience. The motivation for these hosts is non monetary. They offer a very different kind of 'Homestay' where you really will be treated like a member of the family.
With so many paid 'language school' families hosting, it can be difficult for you to distinguish these from true immersion hosts. You need to be sure to ask about the nature of the 'Homestay' being offered by other programs.
My host brother introduced me to his friends and made a special effort to include me. Staying with an immersion family was the best possible way in my opinion to immerse myself in Spanish culture. The Immersion Week was by far the best part of the entire trip. I wish I could have stayed longer with my family.
Gabriel Grand, Spain 2012